A beautiful, rich aqua blue pool is a luxurious feature in any home. But when the sun sets and the natural light shrinks away, how can homeowners still safely enjoy their pools? A dip under the stars is a dream to be sure, but to create the perfect evening swim atmosphere, lighting is key. Here, Melbourne Pool + Outdoor Design's Lucy Wadelton sits down with CRT and Marketing Manager at Ascon Pools, Trinity Mansfield, to discuss how lighting can transform an outdoor pool space.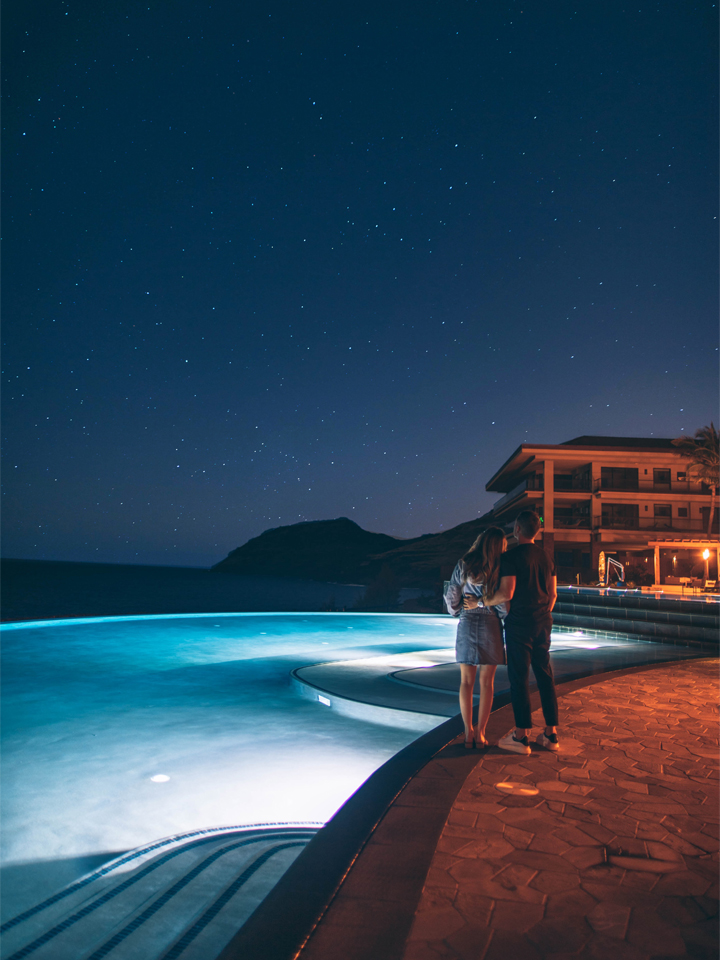 The Ancient Greeks and Romans created the 'Great Bath', and in a period of history without electricity, they enjoyed their tranquil evening soaks by fire or candlelight. In contemporary times, a homeowner has a myriad of options when it comes to brightening up their in-pool and outdoor areas that transform the space, the mood, and the experience of swimming in your own backyard. When it comes to making that pivotal choice around lighting, there are many aspects to consider – such as price, variety, colour, positioning and more.
DIVING INTO DESIGN
Pool lighting is an essential element when planning the creation of your dream outdoor pool. Adding lighting within the water and to its surroundings has several practical benefits, and by today's standard lighting is a necessary safety precaution. Trinity Mansfield of Ascon Pools highlights the importance of pool lights and how they allow homeowners to use their outdoor spaces at all times. Aesthetics aside, lighting also serves as a safety measure to ensure you can see where you are walking by illuminating pathways and steps, and this underappreciated safety products can even tell a swimmer how far they can dive or swim in conjunction with the tiled walls and floors of their underwater oasis.
Beyond the practical, lighting your pool and outdoor space can highlight the true beauty of the architecture and design of your aquatic dreamscape. Whether you want to make a feature out of your unique landscape, specimen planting or patio area, the perfect lighting doesn't just have to draw attention to a body of water. When positioned correctly – and Mansfield stresses that where you put your focal points of light is key – "lighting in the pool will lift the ambiance and mood."
Mansfield suggests, "the best advice is to do your homework" so that you can choose the perfect option for your needs and aesthetic desires. If you're new to pool lighting and have no idea where to start, some practical research on price breakdowns, durability and energy efficiency may be your best jumping off point. From there you can dive into investigating the variety of lights such as outdoor and in-pool LED's, solar garden lamps, and magnetic pool lights like Ascon Pool's No(t) mad.
Surveying how your landscape works in cohesion with the pool space will determine how many lights – both above the ground and in the water – you might want, as well as where you can strategically place them. Once you've researched the practical side of choosing your lighting, you can begin to make more artistic and playful choices.
ILLUMINATING IDEAS
Pool lighting has advanced over the years, and with technological improvements have come infinite lighting possibilities. "Everyone has a mobile phone," says Mansfield. "The option to control your pool equipment with your phone has caught on." Otherwise known as automation, the ease and usability of connecting your outdoor lighting to your phone not only ensures energy efficiency but says goodbye to the days of pesky timers and tedious errands to the switchboard after a swim.
Swimming pool designs used to have a few white lights built into the walls. Now a pool owner can be spoilt for choice with modern customization. While Mansfield attests that a good bright light is "essential", being able to choose different colours, level of softness or special effects, adds a powerful visual interest to any outdoor pool. And, as Mansfield so aptly reminds us, makes the pool planning process just that bit more fun. The No(t)mad lights have seven colour choices for a variety of atmospheres. The choice of colours immediately evokes strong moods, "pink for the romantic, blue for the mystical, green for the earthy," Mansfield says.
The option for colour changing sequences is ideal for any pool owner intending to host a party. It's also a great feature that means you aren't stuck with one kind of light – perhaps warm or cool white like in the past – this way you can change the lighting depending on your mood. Your outdoor pool space will never feel outdated with contemporary, everchanging colours and designs.
A BRIGHT FUTURE AHEAD
When discussing what the future holds for in-pool and outdoor lighting, Mansfield confidently predicts that sustainability will remain a high priority. Solar lighting is becoming more and more available and accessible as a trend that intends to stay if we are to protect our precious planet. Non-wired pool lighting is already becoming available, with the No(t)mad light as a good introduction to the market. The No(t)mad is waterproof, rechargeable, and magnetic with a run time of approximately six hours. Mansfield tells us they're highly adaptable for any outdoor setting – pool, garden, camping, or BBQ. Because it is magnetic it can be used in many creative ways and places.
Regardless of what kind of garden and pool space you have, choosing lighting is not only imperative to your safety when charting the wet terrain after dark, but a great return on your investment in the quality enjoyment of your pool. While relaxing in your watery abyss, you can take comfort in the moody soft glow that guides you like a little touch of the stars above.
"After the last two years we all value the things we missed – entertaining, spending time with people," Mansfield so aptly observes. Incorporating outdoor lighting into your space in a post-COVID world means more than safety, elegant design, and modern luxuries – although those things are a true benefit. It also means "that the mood can be set, and we can all have fun." And don't we deserve it?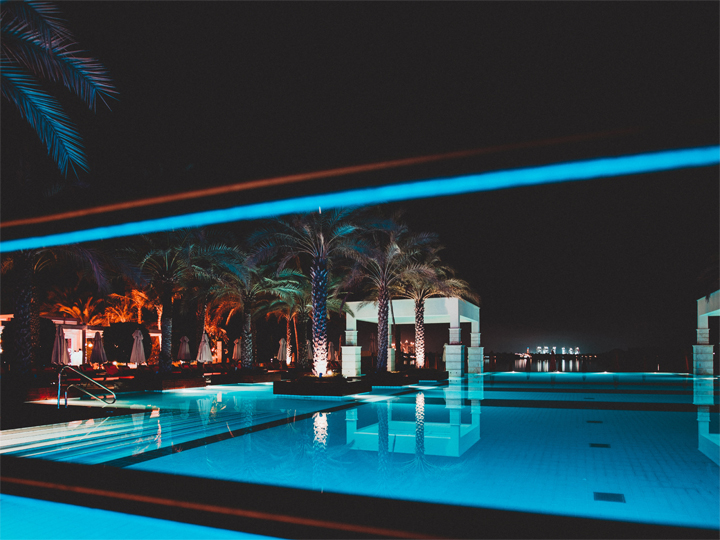 Images courtesy of Unsplash.