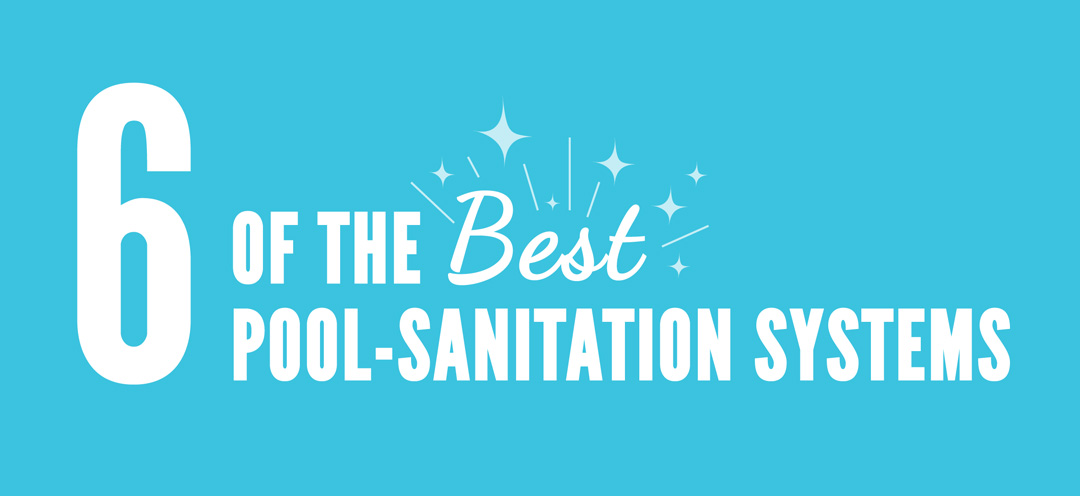 Six Of The Best Pool Sanitation Systems
Pool maintenance can be a drag, but there's no point having a great pool in your backyard if it's full of sludge or debris. Keeping your pool water sanitary was once a labour-intensive process that involved manually testing the water every few days. Luckily, the days of manual sanitation are over, and there is now a wide range of automated water-treatment systems available to take the leg work out of keeping your pool sparkling clean. Here, Sydney Pool + Outdoor Design identifies six of the best sanitation systems to help you keep your pool water in tip-top shape at all times.
1. Enviroswim ES3 by Enviroswim
Utilising unique patented technology, the Enviroswim ES3 delivers pool water that's as clean and pure as a mountain stream. The innovative freshwater sanitation system uses three processes simultaneously – electronic oxidising, ionisation and ultrasonics – to annihilate bacteria, fungi and viruses from your pool. Requiring as little as one hour to sanitise 10,000L of water, the Enviroswim ES3 can save you a significant amount on energy costs by reducing the run time of your pump. Designed and manufactured in Australia, the Enviroswim ES3 is gentle on the skin and eyes, which makes it the perfect solution for people with asthma, allergies or skin conditions. The system requires remarkably low maintenance; you only need to check your copper levels once every two weeks during summer. Complete with a copper-testing kit and a twoyear warranty, the Enviroswim ES3 delivers safe, sparkling-clean pool water that the whole family can enjoy.
2. NKD1 by Naked Pools
Simple to use and easy to maintain, NKD1 is a freshwater-sanitation system that delivers rejuvenating, silky-soft pool water. The hybrid pool- and spa-sanitation system uses oxidation and a combination of copper and silver ionisation to treat your pool water, while drastically reducing salt and mineral levels. Emitting extremely low levels of chlorine – so little that you cannot smell, taste or feel it – NKD1 delivers crystal-clear, mineral-based water that's on par with domestic drinking or bathing water. Releasing no nasty by-products, NKD1 allows you to backwash the water straight onto your garden, which reduces staining on your glass fencing and ensures your pool's interior and surroundings will last longer. With no need to shower or wash swimwear after taking a dip, NKD1 will ensure your swimming experience is as refreshing as possible. Complete with a three-year warranty, Naked Pools' NKD1 system makes pool-water management a breeze.
3. Omnilogic by Hayward Pool Products (Australia) Pty Ltd
The OmniLogic automation system uses cloudbased communication to control all aspects of your pool, spa and backyard via your iPhone, iPad, Android device or the base unit itself. Designed to be salt-ready, OmniLogic can sanitise your pool water without the need for an additional power pack. Further, by simply adding on a salt cell, OmniLogic instantly adds a chlorination function to the system. When used in conjunction with Hayward Pool Products' (Australia) Pty Ltd popular Sense and Dispense water-testing unit, OmniLogic can easily set chlorination schedules, and will only generate chlorine when your pool or spa requires it. One of the most intuitive and powerful automation systems on the market, OmniLogic can maximise energy efficiency during cleaning and filtration processes while keeping your pool chemicals perfectly balanced. Designed to minimise maintenance and eliminate complex processes, OmniLogic makes it easier than ever for busy families to maintain a sparkling-clean pool.
4. Oxy Silver Purifiers by Swimfresh
For more than 30 years, SwimFresh has created innovative pool and spa water-purification systems to keep Australian families healthy, happy and refreshed. Manufactured in Australia, the company's popular Oxy Silver Purifiers deliver invigorating and oxygenated pool water the natural way. The salt-free and chlorine-free Oxy Silver Purifiers are built around around ozone, which is a powerful oxidising agent that's used to sterilise water and purify air. Known forits gentle character, ozone sanitation does not introduce any solids that could cloud the water or cause irritation to the skin or eyes. The Oxy Silver Purifiers are available in two models – OPS100 and OSP50 – and include the innovative Silver Cellerator, which injects your pool or spa water with therapeutic bursts of ozone, copper and silver ions. The hardworking combination of ozone and silver eliminates bacteria, while the copper prevents algae. Producing healthy, crystal-blue water that's incredibly silky to the touch, SwimFresh's Oxy Silver Purifiers will ensure your swimming pool or spa is cleaner and more revitalising than ever before.
5.Gemini Combo System by Pool Controls
The Gemini Combo System is a fully controlled saltwater-management system that takes the guesswork out of looking after your pool water. Suitable for a wide range of domestic and semi-commercial swimming pools and spas, the Gemini Combo System puts an end to overchlorination, which can lead to bleached pool blankets and shells. Utilising the same technology that's behind Pool Controls' best-selling Chemigem D10 Water Management System, the Gemini Combo System carefully monitors your water quality and activates the salt or mineral-salt chlorinator when required. The Gemini Control Unit continually analyses the pH levels of your pool water and administers doses of acid when necessary, which ensures pH levels are always kept within the optimum range. The Gemini Combo System comes with a full two-year warranty on all components and an additional three-year pro-rata warranty on the Gemini probe and cell.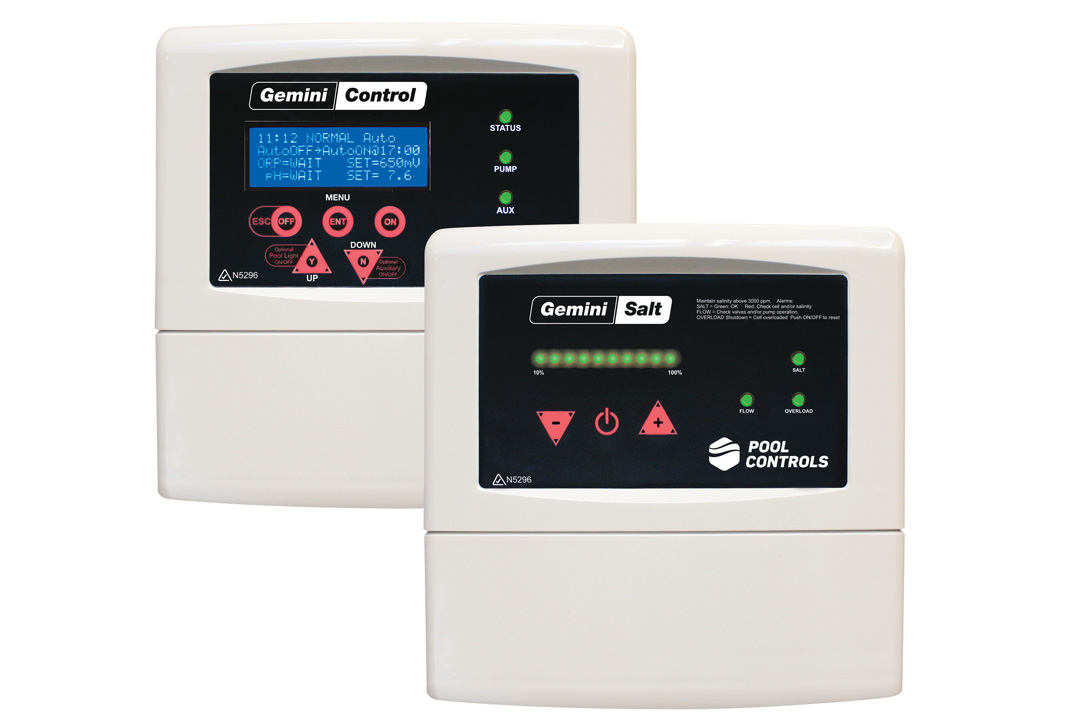 6. Aquajoy Unique Auto Clean Salt Water Chlorinator by Joy Pool Systems
Handmade in Joy Pool Systems' Sydney-based  factory, the Aquajoy Unique Auto Clean Salt Water Chlorinator is designed for maximum control over chlorine output. With an auto-clean function, an easy-to-read chlorine monitor, a timer for filter/chlorinator operation and fully adjustable chlorine-control capabilities, the Aquajoy Unique Auto Clean Salt Water Chlorinator enables users to easily adjust chlorine levels from zero to maximum, as needed. The chlorinator cell features a clear, ultravioletstabilised casing and marine-grade, stainlesssteel terminals that are protected with an epoxy sealant, along with high-quality electrodes that ensure extended cell life. Built to Australian Standards, the 20-amp model is suitable for pools of up to 90,000L, while the 30-amp model is suitable for pools of up to 150,000L.