A pools' overall aesthetic is cemented and defined by the pools' interior. aggregated interiors have made a comeback, evolving over time to become staples in modern pool design. Olivia Morffew sits down with Michael Kettewell, manager of Blue Glass Pebble Company Pty Ltd, to chat about how these aggregated surfaces can elevate your pool.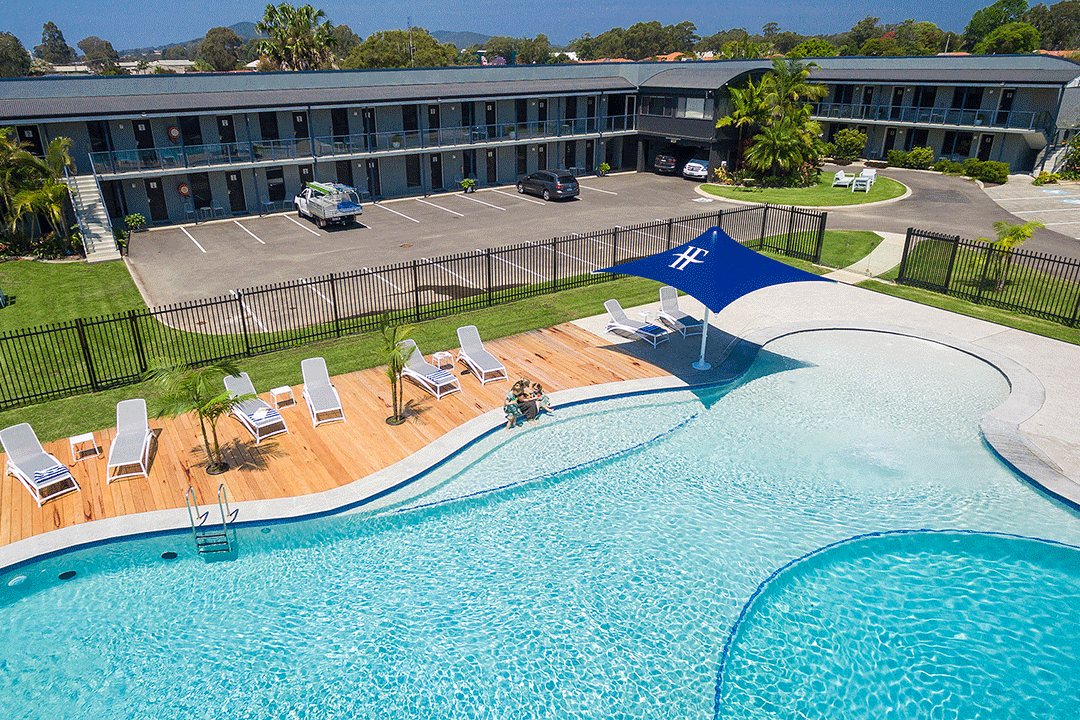 THE AGGREGATED AESTHETIC
Pool interiors have developed significantly over the years, with myriad materials being utilised to create a flawless and sophisticated finish. While quartz pebbles are one of the common materials used to create these textured pool interiors, glass pebbles have become a non-traditional and colourful deviation from the norm. Kettewell echoes this sentiment, saying "the game changer has been using glass beads in place of pebbles [as they] are very colourful and allow a [much] greater range of pool water colours".
Any pool shape or size can showcase the aggregated aesthetic, but be mindful of your surrounds as this can factor into the colour and material selection process. Certain colours complement certain landscapes, and your pool interior should reflect this. For instance, a rich, beachy blue might not be the perfect fit for a lush, green environment. This shouldn't deter you in your pool interior design process, as Kettewell explains that "there is a very wide range of choices with glass pebbles and almost any water colour is possible".
While there are many colours and materials to select from, it should be noted that your decision should be formulated on water colour, rather than what the sample looks like. Aspiring pool owners often examine the samples, restricting their understanding of how the final product will look under water. Kettewell reiterates this pool designing pitfall, as clients "don't see [how] it is finished in your backyard", advising to peruse the gallery of water colours and "pick the [right] colour for you that way".
When it comes to the installation of these astounding aggregated interiors, the process has remained the same for decades now. It's an easy method for trained professionals, but is by no means a simple DIY to be undertaken by pool owners and should be left to pool interior experts. In terms of when to consider the installation of these incredible interior finishes, you can incorporate your ideas during the designing and pre-installation phase, or at the end for a flawless finish. Regardless of time, Kettewell advises that you should always allow for a decent pool interior in your designing and construction budget; "Often you see potentially brilliant pools let down by drab old fashioned pool finishes due to budgetary concerns at the end of a long construction."
SMOOTH SAILING
Texture is a key element when it comes to aggregated pool interiors, and it is one of the key components of this pool trend that has evolved over time. With materials like glass beads – which create a smooth and sleek finish – now accessible, it's easy to deviate from the pebblecrete norm and modernise your pool interior. "Glass pebble pool interiors … are the modern gold standard for pool finishes," Kettewell explains.
For those opting for a polished finish, the installation process remains the same. The key difference, Kettewell clarifies, is that "a team uses diamond polishing pads to hone the aggregate interior". While this is an enticing option for pool owners wanting a refined and polished finish, it does come at a higher expense, which is why it's integral to have room in your pool designing budget for the pool interior, especially for people who wish to embrace this trend.
Regardless of going for a polished or unpolished finish, the maintenance of these surfaces is vital to contributing to the longevity of your pool interior. For pool owners, this means that maintaining basic pH balances in the water will see these interiors thrive in decades to come. These interiors can last decades, Kettewell confirms, saying "they are tough and forgiving, and [homeowners] generally only see problems after a sustained period of water chemistry neglect," Kettewell says.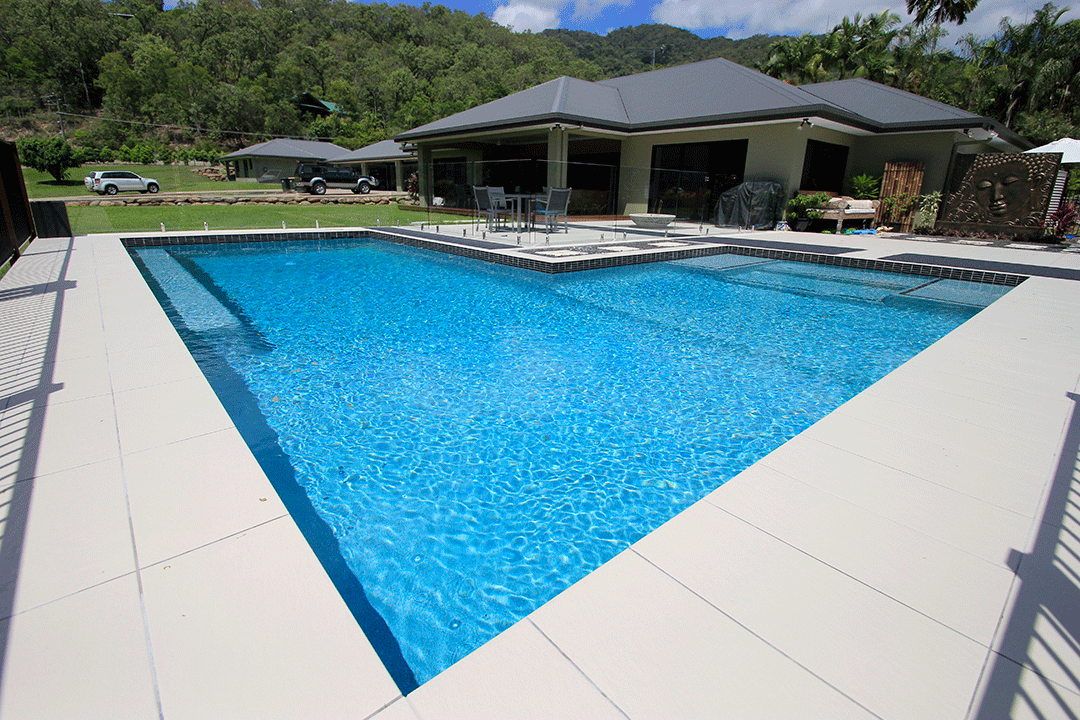 BRINGING THE HEAT
Aggregated pool interiors can be easily incorporated into your spa to create a cohesive interior style for your outdoor oasis. The strong and resilient nature of aggregated surfaces make these materials the perfect choice for your spa's interior. A testament to this particular spa finish is the fact it can withstand high temperatures and chemical environments. Kettewell reiterates this, stating that aggregated surfaces "are considered the most durable finish on the market".
Repurposed from recycled materials, opting for a glass pebble finish provides additional warmth to pools and spas. This eco-friendly addition is also brilliant for your budget, as it can help pool owners cut costs on heating requirements throughout the year. Affordability also comes in the form of the aggregated surface itself, as it usually falls in the middle of the price range of pool interiors. Investing in this pool interior will your pool and spa into a modern, aquatic centrepiece. According to Kettewell, these surfaces offer "top of the range aesthetic brilliance and quality for a mid-range price."
The fusion of cost, easy maintenance, and durability are the many things that draw pool owners into investing in these astounding aggregated pool interiors. But it's how the materials look like underwater that really cements how stunning these interiors are. Whether you're pining over a textured feast for your feet, or opting for something smooth and sleek, a pools' interior is vital in achieving the desired overall aesthetic of your outdoor area. These interiors are perfect for any shape and size of pool and are the perfect addition to your spa. It's crucial to consider all aspects of aggregated surfaces for your design and build, so don't be afraid to contact a professional to ask for advice on how you can elevate your pool's interior!