The convenient destination-of-choice for homeowners seeking to soak up the sun's rays, the humble home backyard has long since evolved from its once grass-ridden, clothes-line location. Now more commonly a hub of all things entertainment and enjoyment, why not bolster the aesthetic potential of your own garden space, and take outdoor living to new heights. Gaining the insight and experience of Lap of Luxury Pools director Andrew Good,
Bethany Hayes deciphers the most effective ways to elevate your backyard haven into one of pure luxury and aesthetic bliss.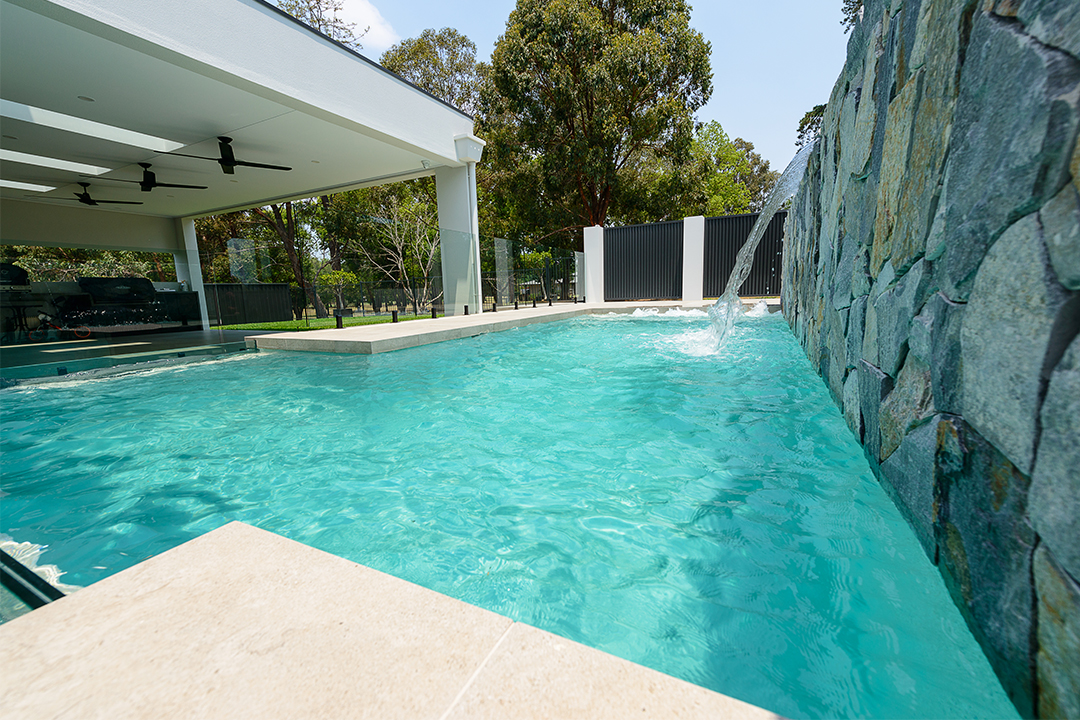 For science aficionados alike, the term 'the melting point' – the state of equilibrium in which a substance changes from a solid to a liquid state – is one which will be very familiar. In styling terms, this metaphor can be likened to finding the perfect balance between opulence and practicality; where an outdoor space allows for the effortless and exuberant living one so desires, while still maintaining its status as a functional space which can be enjoyed by the whole family. Read on to explore Good's expert advice on making your backyard one of absolute brilliance.
LET'S TALK LUXURY
With a company name as fitting as Lap of Luxury Pools, it's no surprise that Good and his team have brought countless outdoor visions and impressive pools to life. Encompassing a wealth of experience, Good notes that the first step to transforming your current backyard space, or even beginning from scratch, is to engage with a trusted professional, so you can rest assured that the final results will be worth your time – especially for something as big, and often time consuming as a pool creation. "I would always suggest that a homeowner seeks professional guidance when completing additions, in particular with swimming pools or features," he notes.
When discussing the most luxurious feature that can be included in a backyard, Good's answer is simple; "it has to be a swimming pool of course," the company director affirms. "Gone are the days where swimming pools were just functional. These days, owners are spending more time at the design phase to make sure they get exactly what they want," Good continues. "With Instagram and Pinterest, people are a lot more aware of the options available to them, and are very keen to incorporate beautiful designs which are both functional and aesthetically pleasing."
For homeowners with a pre-existing pool looking to add luxurious extras such as waterslides, but with potentially limited space to work with, Good reassures homeowners that it "can be done", but advises chatting with an expert. "There are state and national regulations and processes which determine what can and can't be done," he explains. "Speak with an expert in pool construction to work out the best options available based on size, access and location. The beauty of a custom, concrete inground pool is that you can create something spectacular in small spaces. We have customers that engage with us, asking for options, and we have completed some beautiful pools!"
FIT YOUR BRIEF
When thinking about your outdoor space – however spacious or slender it may be – consider the use of beautiful tiles to add that element of impressiveness, and eye-catching allure. "Careful selection of tiling in and around the pool can create a beautiful feature," Good notes. For his own outdoor pool renovation, Good plans to use "a drop-face limestone or marble tile, and a fully-mosaic tiled interior, most likely from the Ezarri Zen range" to add further enhance the style and finesse of the area. "Given the existing pool is detached from the house, I would love to add a pool house or cabana that is quite open, to create a space that can be utilised
in summer and in winter."
In present times, Good flags that it is becoming
increasingly popular for pools and spas to be tied into and harmonise with outdoor living spaces like alfresco dining areas. The ultimate fusion of luxury, moulding a pool or aquatic space in with an outdoor dining area exudes modernity; whereby the relaxation and leisure of the pool collides with the dining-among-friends
aspect of the alfresco space. "Most new house builds have the pool adjacent to the alfresco, creating a flow and connection to the house," Good attests. "Pools are as much a feature as [they are] something to go swimming in, so designing a luxury pool that can be seen from the living areas is definitely ideal."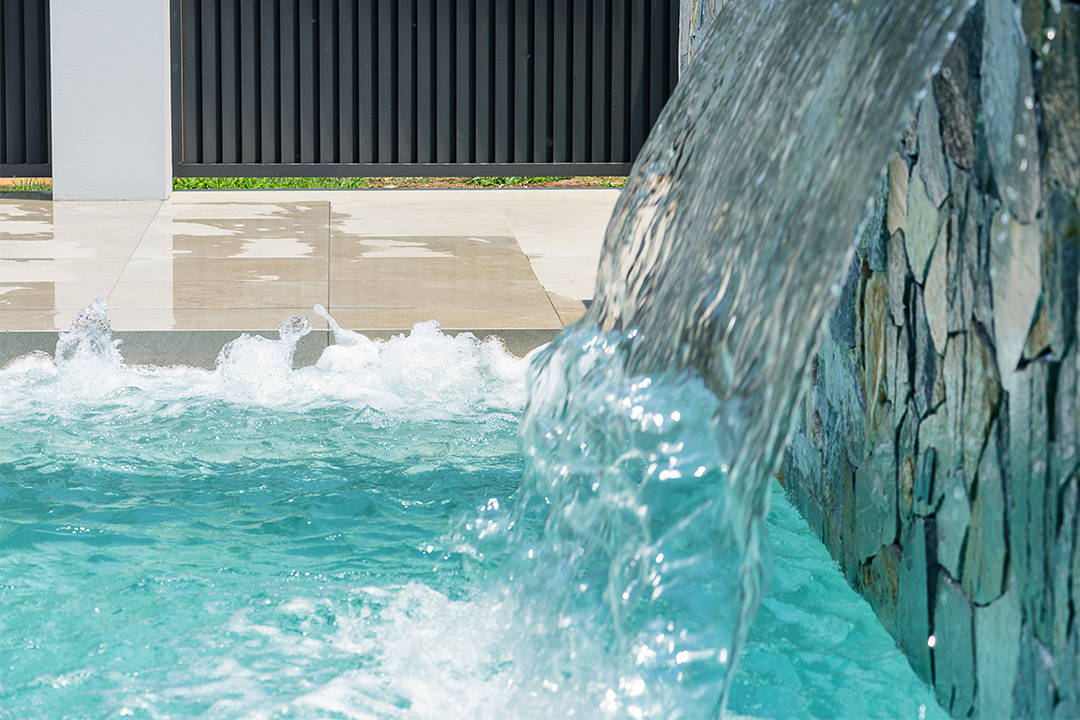 MY EYES OUTDOOR YOU
From rooftop pools created at soaring heights, to other impressive additions, Good and his team are very familiar with cultivating the wow factor in everything they create. To embody this in your backyard, consider working alongside a professional to create a feature wall. Stone cladding with rustic, natural stone can help induce a timeless, country-esque appeal to the backyard. A vertical garden or feature wall can be an excellent way to re-introduce a pop of green into the backyard with climbers such as wisteria, while utilising aptly-placed outdoor lighting can create a welcome sense of ambience and an ethereal touch to your backyard and poolside.
For homeowners looking for something that bit more prestige, consider a pool house to take your outdoor retreat to the next level. "Pool houses are more common on larger, acreage properties, but are becoming increasingly popular on larger residential blocks [as well]." As a freestanding building, a pool house is the perfect place for swimmers to get changed in, host a plethora of pool toys and store other outdoor equipment, and perhaps even a bathroom or compact kitchen if you can fit it.
Regardless of the design you have in mind for your dream space, be sure to engage with a trusted professional, who will be able to see this outdoor vision brought into fruition, safely and securely. "A good brief of what you desire with the right landscape architect and builder will result in in the right balance of achieving something 'wow', whilst maintaining a certain level of sophistication," the director notes. Luxury by name, and luxury by nature, Good's resounding advice for creating your opulent outdoor dream is clear; "it is as simple as engaging the experts".
Images courtesy of Lap of Luxury Pools