Equilibrium Pools
SYDNEY POOL BUILDER – BEAUTIFUL DESIGNS BUILT TO LAST
Equilibrium Pools have established a reputation for its high-end, unique, custom-designed concrete pools. Rourke Hartwig and Rob Rooney, founders of the company, also bring a combined 30 years of experience in pool and landscape design and construction.
The talented team at Equilibrium Pools creates bespoke, customised pools that will be built to last and enjoy. The company guarantees longevity of the pools by using only the highest quality pool equipment and finishes, and the directors will be there to answer all questions from design to handover.
Designing and building pools across the North Shore, Northern Beaches, eastern suburbs and Hills District areas, the team's ability to work in tight access spaces is what sets them apart from other pool builders. Equilibrium Pools take pride in designing and building unique pools to suit its clients lifestyles, building 20–30 personalised pools each year.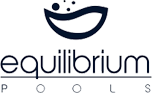 This show-stopping and refined pool is a practical solution to the existing level changes while achieving a timeless, genteel aesthetic in the design and finishes.