Dune Outdoor Luxuries was established on the Gold Coast in 2008 by husband and wife duo, Ben and Mary Sidey, who have a passion for the very best in outdoor living. The company strives to provide the highest standard in outdoor furniture. After one year of trade, the Gold Coast showroom expanded with the introduction of the internationally acclaimed Brown Jordan gallery.
The company was in awe of the extensive range Brown Jordan offered, along with endless finish and fabric options. The brand represented everything Dune Outdoor Luxuries wanted to deliver to the marketplace, and has been exclusive to the business ever since.
Due to high customer demand, Dune Outdoor Luxuries created a second showroom at Bowen Hills in Brisbane, which allowed the company to showcase larger collections across both stores. Dune Outdoor Luxuries ships its products Australia wide. With both stores open seven days, visiting the expert team has never been easier!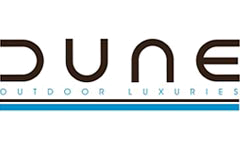 CONTACT
Dune Outdoor Luxuries
13/107 Ferry Road
Southport
Tel: (07) 5531 0032
3/3 Montpelier Road
Bowen Hills
Tel: (07) 3257 3707
Website: www.duneoutdoor.com