Most of us dream about owning a pool and when this wish comes true, it's important to make the most of it. Here, Annie Slevison chats with Adam Bugden, the managing director of Freedom Pools, and Andrew Good, the managing director of Lap of Luxury Pools, about creating the optimal swimming experience.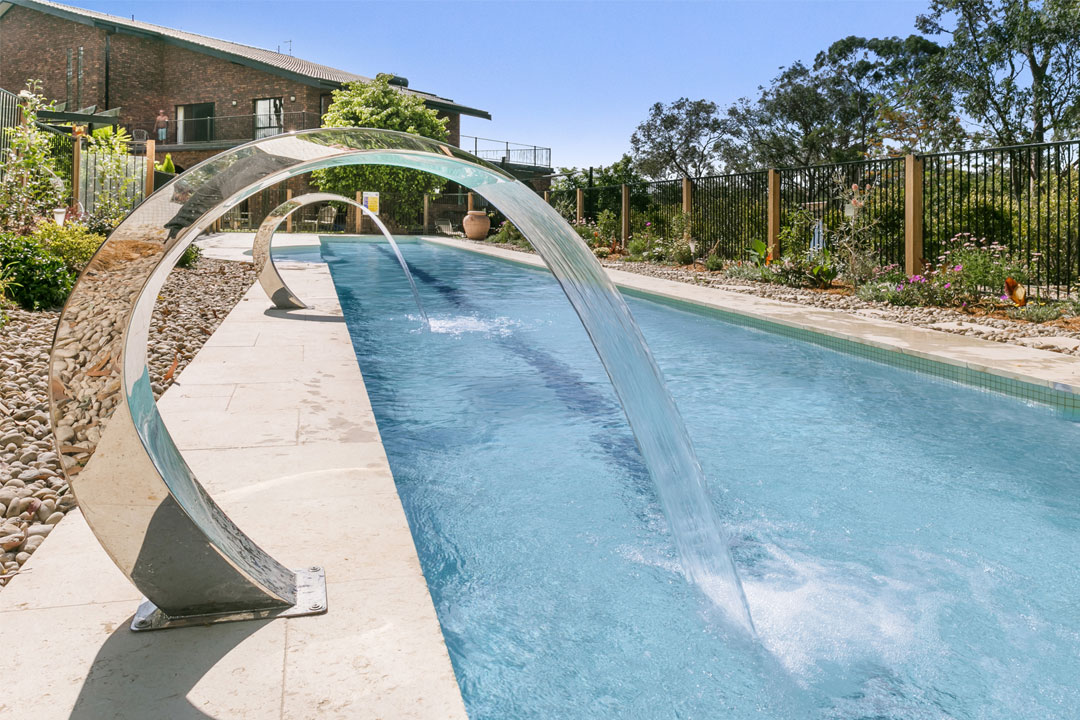 There is nothing quite like summer days spent splashing around the pool with family and friends, or relaxing on an inflatable flamingo. So, if you are about to embark on a new pool project, you'll want a custom design that suits your individual lifestyle. A personalised design approach will ensure you maximise the usage of your pool and create the perfect swimming experience every time you jump in.
Practising the essential skill of swimming, enhancing the entertainment value of your home, and enjoying the outdoors more often are just some of the perks a pool can offer, but before you take the plunge, Sydney Pool + Outdoor Design shares some professional tips from two industry experts.
JUST KEEP SWIMMING
Swimming is not only a favoured pastime for the joy and serenity it can bring, but also an activity that is beneficial to your overall well-being. Known to help manage stress, improve your mood and sleep, build strength and endurance, and be kind on your joints, swimming can work wonders for the body and mind, and is a comparable alternative to land exercises. "Swimming is a popular, low-impact activity that is great for improving general health," Andrew Good says. "It's fun for kids, and is a learning tool for them to understand the importance of safety around water."
Whether you enjoy butterfly or backstroke, or playing Marco Polo on a warm afternoon, it is all about getting your heart rate up, and your muscles moving against gentle resistance.
Adam Bugden explains that whether you wish to practise laps or splash around, the cooling aquatic activity has something for everyone. "The beauty of swimming is you can do it alone, or with family and friends for social interaction," he says.
THE WADE FORWARD
Creating an ideal pool that fits your unique lifestyle involves researching the market and considering how the area you are working with will impact your design dreams. Good explains that while your backyard layout and level will help determine the best position for your pool, there are additional aspects you should pay attention to. "The design of the pool [must match] your needs, with thoroughly thoughtout water depths to suit the size and shape of the pool," he says. "Consider including balance tanks for infinity edges, wading areas for children, and feature walls for privacy."
To further enhance your swimming experience, Bugden recommends adding features that allow you to enjoy the water anytime you want, without hassle. "You want it to be fun, so being comfortable is important," he says. "This means heating the pool to lengthen the season, and having nice, fresh water to swim in that is not too chlorinated or salty."
DESIGN FOR YOUR LIFE
There are many ways the design of your pool can help promote an optimal swimming experience for everyone who dives in. Features such as built-in spas with cascading water add a sense of luxury, while ledges serve as multipurpose additions that allow swimmers to take a break, or non-swimmers to engage in the conversation occurring within the pool. "For a well-designed pool [include] quirky seating areas, swim lanes and waterfalls," Bugden says. "LED lighting also gives the swimming experience a new dimension at night." In pursuit of the perfect swim, Good recommends choosing a suitable depth to ensure you reap the benefits of the design, while still creating a safe place for young children. "Kids love a pool that's deep enough to jump, dive and play in, but don't make a smaller pool too deep, as you then can't utilise all of its aspects," he says.
If you enjoy swimming as part of your fitness routine, but don't quite have the space for a lap pool, swim jets are a great alternative. "A lap pool is ideal for swimming, with most being around 15–25m in length, and 2.5–4m in width," Good says. "However, if space is limited, swim jets can be added within a smaller plunge pool." A jet system will allow you to complete a challenging workout, while hydrotherapy massage jets are great for a post-swim treatment, and can be installed in the seating areas to mimic a spa.
Bugden recommends thoroughly researching the systems available to ensure they meet your fitness requirements. "Swim jets are great for exercise, but you should not skimp on them," he says. "There is no point putting a cheap version in, as they are often just pushing bubbles around."
FAMILY-FRIENDLY FEATURES
While it's usually easy to encourage kids to dive in and splash around the pool, Good explains there are certain ways you can enhance its aesthetic appeal so that the whole family will want to take a dip. "The key requirements for an inviting pool are ensuring it's easily accessible, and close to your house or entertaining area," he says. Choosing an attractive colour for your pool interior and installing heating to make swimming comfortable all year round are additional techniques you can incorporate for a successful result. If you want older children to take advantage of the pool more often, consider an imbedded relaxation area with waterproof deck chairs for a resort-like aesthetic.
Designing your pool around your alfresco zone is a clever way of marrying the main elements of your home together, and allows everyone to stay connected, whether they are on land or in the pool. By taking inspiration from open-plan living concepts, transforming your outdoor space into an enticing environment is easier than ever before. "We are currently living in the best time to build outdoor areas," says Bugden, "with barbecues, outdoor heating, pizza ovens and TV's available to transform the backyard into the centre of entertainment."
PLACEMENT IS KEY
In addition to incorporating fun features, carefully considering the placement of your pool will help you establish a welcoming and functional backyard. Every property is different and will present a range of unique challenges when it comes to finalising your pool's position, so it's important to measure the area and enlist professional help to choose a design that maximises the sites potential. Remember to be mindful of tree roots and the type of soil you are dealing with, as well as how the pool will impact the rest of your backyard.
When building on a large sloping block with views to admire, an infinity pool is a great option, whereas smaller blocks are better suited to compact pools. If you have a backyard that is a particularly unusual shape, consider a customdesigned concrete pool that can be constructed to fit the area properly. Good suggests creating a layout that accommodates both swimmers and non-swimmers at once. "A key objective is to have the pool well-positioned to create an easy flow throughout the backyard, while still tying it into the entertaining zones," he says. "Another aspect to take into consideration is where the pool will gain the most sunlight."
Bugden recommends reducing safety concerns for young children by achieving a direct line of vision to the pool from all indoor and outdoor living areas. "Families want safety, and the best form of that is supervision," he says. "You want to be able to see what is happening at all times," he says. It is essential to include appropriate fencing that is suitable to the size and shape of the pool to satisfy safety laws; glass is a wise option to ensure your view is not hindered.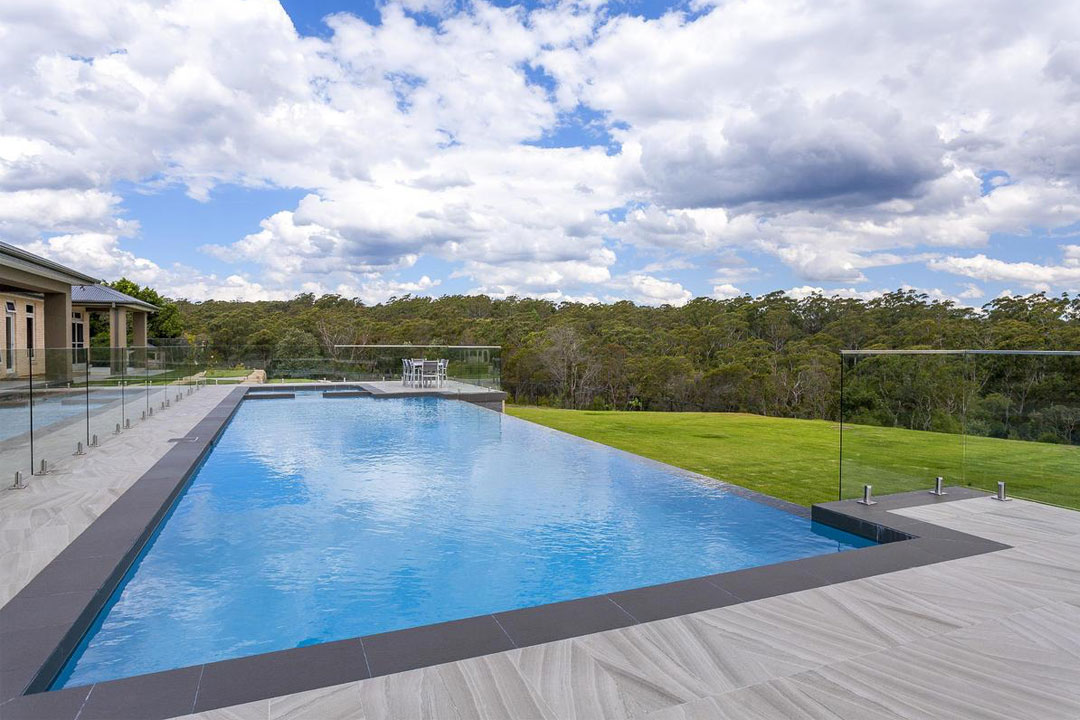 SHADY SOLUTIONS
Jumping into a cold pool on a hot summer's day is one of life's little pleasures, however, it is important to protect yourself from the harsh UV rays that are synonymous with the Australian climate.
Fortunately, as Good explains, having such extreme weather conditions means there are ample shading options available for all types of pools. "For a smaller plunge pool, an umbrella can be easily fixed into the concrete coping," he says. Produced in various shapes and sizes, umbrellas can be imbedded in the ground, or freestanding, which allows swimmers to control their sun exposure without committing to a permanent fixture. Outdoor umbrellas are also cost-effective, and have a minimalistic design that will complement most homes and backyards.
For a large family pool, Good suggests including sturdier forms of shade that cover a substantial portion of the exposed areas. "Your options include installing a shade sail or incorporating a structural roof into your pool design, with the premium choice being an electronic retractable awning," he says. Shade sails and retractable awnings are elegant additions that can be custom-made to suit your pool area. Not only so they limit direct sunlight from entering the pool, but they are also typically made with waterproof fabric, which is ideal for tropical locations. Retractable awnings can also be connected to your home's smart control panel, allowing you to reduce sun exposure with the push of a button.
SURFACE VALUE
Deciding on a pool interior will depend on your own personal style and existing colour scheme, as well your preference of texture and upkeep capability. "These days, swimmers are spending more time in the water, so the choice of interior plays a big part," Bugden says. "Most pools are now either glass bead or fully tiled." Good suggests choosing interior surfaces known for their longevity, as some products have shorter life spans, and require more maintenance than others due to staining or chemical erosion. Consider a tiled interior that will not only stand the test of time, but look great too. "A premium interior option is Spanish mosaic tiles by Ezarri, which will give your pool a flawless finish throughout, and come in a vast variety of colour and finishes," he says.
For a unique and dynamic look, Good recommends beadcrete for its stain resistance and low maintenance requirements. "This is a beautiful product that has more of a natural look," he says. "It's a render-based product with white pebbles and different glass beading options. It offers a smooth and consistent finish, as it comes pre-manufactured in bags." When browsing products, you will probably notice similarities between beadcrete and pebblecrete, but it is important to understand their differences. Although both are formed in a similar fashion and have a likeness in style, traditional pebblecrete is more prone to cracking, and does not typically age quite as well.
Once you have chosen your interior surface, you can then tie everything together with your pool surroundings. The flooring around your pool is not only for aesthetic purposes, but also ensures the safety of all occupants. It is important to use materials that are anti-slip, and that can cater for wet feet. "Timber and natural stone are non-slip materials that can be placed on the coping areas of a concrete pool," Good says. According to Bugden, "porcelain pavers are now becoming popular as they are usually slip-resistant and in a darker colour, which seem to absorb the heat", he says.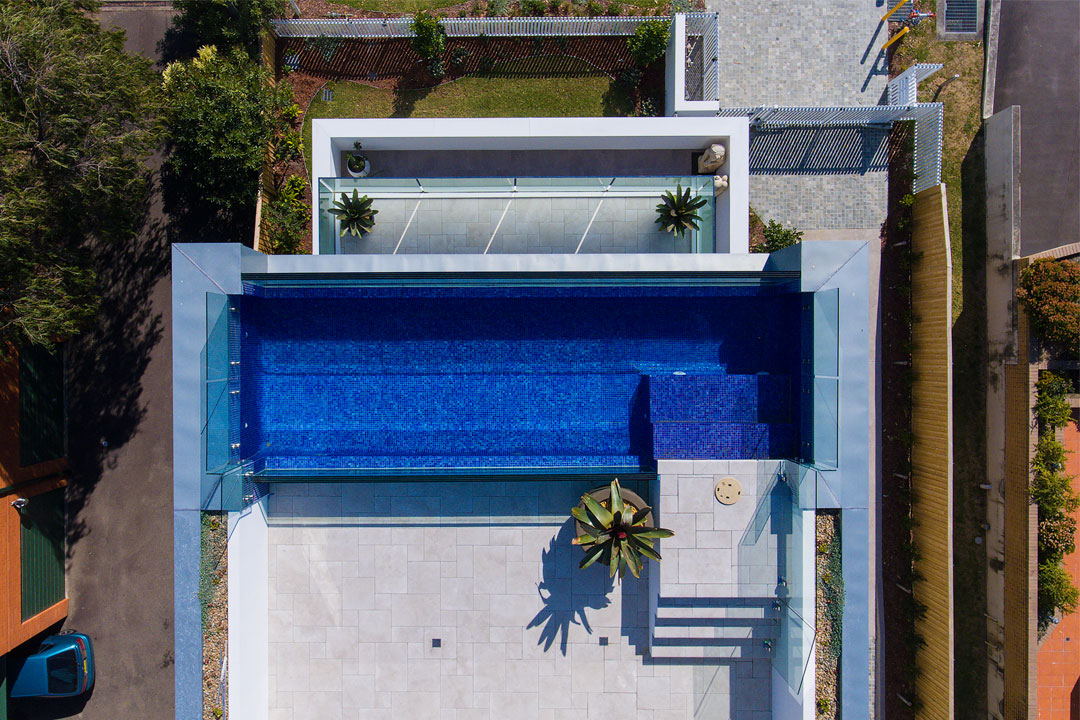 QUALITY WATER CARE
Maintaining a high standard of water quality is essential to keep swimmers healthy and safe. To keep your pool clean and provide the best swimming experience for you and your family, it is important to use a combination of good sanitation practices, and high-tech cleaning methods. "There are different options for sanitation available, including magnesium pools, saltwater pools, and chlorine pools with automatic dosing," Good says.
"Saltwater pools that are magnesium compatible are the most commonly requested, as they are the safest, and require minimal maintenance." Bugden recommends using "mineral salts, ozone sanitation, and systems that measure the water quality regularly to maintain your pool's cleanliness.
"Mineral salts for a standard backyard pool are cheap, and as long as the product is of good quality, the water will remain fresh and healthy," he adds. Along with a sanitation system, be sure to invest in a reputable self-cleaning device.
"Lap of Luxury Pools use the Dolphin robotic cleaner which has scrubbing brushes, and is efficient in reaching the pool's trickier surfaces, including the walls," Good says. When used in conjunction with a pool cover throughout the cooler months, having an automated cleaner eliminates the need to manually scoop out debris, giving you more time to enjoy the pool itself.
The beauty of swimming often lies in enjoying the outdoors, staying fit and healthy, and having fun. Whether you are practising a much-loved hobby or trying to improve your aquatic fitness, creating a pool area that meets your unique wants and needs will help you reap the benefits daily. Consider what is best for your lifestyle, and then opt for elements that will make you want to dive straight in.