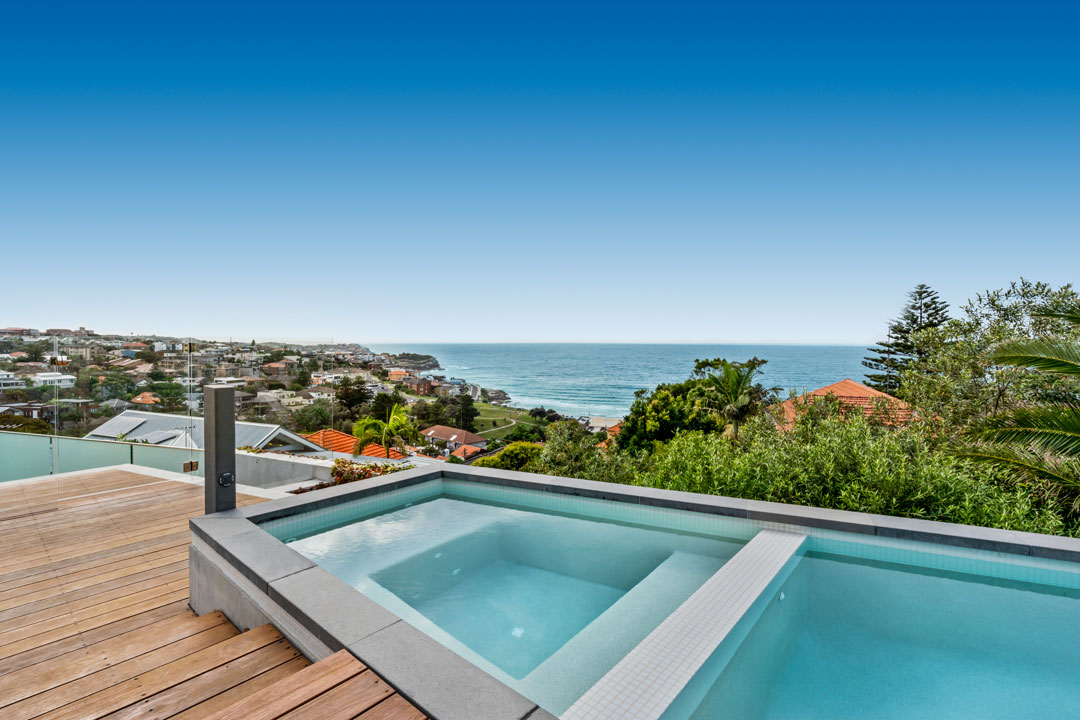 Built by TradeMark Pools, this jaw-dropping pool takes advantage of the property's magnificent ocean views while leaving ample space for outdoor entertaining. The TradeMark Pools team executed the design brief with exceptional skill and ingenuity, strategically positioning the pool atop a vertical sandstone cliff.

Following the property's boundary, the unique, wedge-shaped pool ends in an integrated spa. Together, the pool and spa are a natural extension of the home due to the carefully chosen materials. The formed concrete walls echo the home's exterior, as does the bluestone paving and coping, while the custom 100 per cent beadcrete interior lends the water an aquamarine hue. The rich timber decking provides a pleasing contrast in colour and shape, with the linear poolside walkways offering a counterpoint to the pool's rounded corner.

Due to the site's atypical shape, an intelligent layout was required. The pool's tapered design adds visual interest while maximising the use of space. Vivid white Ezarri tiles sit at the waterline and also cover the dividing wall between the pool and spa for a clean and modern look. To further this, the equipment is neatly and discretely away under the deck.

It was important to the clients that the pool be family-friendly, and require minimal maintenance. With a gently sloping gradient, and a submerged bench that runs the entire length, the pool is easy for younger members of the family to navigate.
To keep the pool in top condition, a Paramount PV3 in-floor cleaning system was selected to minimise maintenance, increase heating efficiency and reduce chemical consumption. For ultimate efficiency, TradeMark Pools integrated the home's hydronic heating with the pool which therefore requires no independent heater. Multiple Waterco Hydrostorm pumps and a fiberglass filter run all the pool's features. The filter is filled with glass pearl media which is considered a more sanitary option as it requires changing less often and filters to a smaller micron than sand. It also reduces water consumption as backwashes more efficiently. For fun as well as practicality, the spa features eight jets and an air blower. Both the pool and spa were fitted with colour-changing LED lights from Aqua-Quip and all the equipment is controlled by a Zodiac One-Touch system with a remote, spa-side switch, and Wi-Fi connection for smartphone app integration.

After many years in the industry, husband-and-wife team Mark and Callie Holland established Trademark Pools in 2010. TradeMark Pools specialises in designing and constructing high-quality custom pools. The company builds 10–15 pools around Sydney's Northern Beaches and metro areas each year, as well as numerous renovations. With an open, honest attitude, and a wealth of experience, the TradeMark Pools team guides its clients through the whole process, from designing the perfect pool to digging up the first shovel of dirt, to maintaining the pool and its equipment into the future.