Your swimming pool and outdoor landscape should be an extension of your home – an impressive feat that can be achieved by tailoring your pool design around your locale. Here, Crystal Pools' marketing manager Andrew Rothery chats with Tegan Lyon to equip readers with the tools to build a swimming pool that best utilises location.
Concrete pools have great design potential, offering homeowners the freedom to build their dream pool to their desired specifications. Even with this flexibility, homeowners should first envision the type of pool that is best suited to the size, shape and location of their property. An inner city property would have little space or privacy for a large family-sized pool, while a plunge pool would be wasted on an expansive rural backyard. Think of your location not as a hindrance, but as a means to shape your pool design and transform your backyard.
BIG CITY LIFE

Block size is quite limited on inner city properties, so your pool should be strategically designed so that it capitalises on the available space without taking over your backyard. This careful balance can be achieved by positioning the pool against the house or fence to give the illusion of more space. Plunge and lap pools are the leading option for small sites; versatile in design, they are a convenient size for inner city dwellers. Concrete plunge and lap pools can be shaped around the contours of a home to make for a stunning landscape feature. Lap pools can be built to extend out of the home in the form of a balcony or underneath bridge walkway. Rothery notes that lap pools are often designed with a partial plunge or family pool for multiple uses. Intelligent landscaping is the key to establishing harmony between indoor and alfresco zones for urban abodes. "For pools in confined spaces, there is a much greater need to echo the overall style of the adjoining home," Rothery says. "Choose materials for the coping, decking and connecting pathways that complement the exterior of your home." With these elements, families living in Sydney's inner city can enjoy the same benefits as pool owners with larger blocks.
ROCKIN' THE SUBURBS
Suburban areas offer a great deal of design possibilities for prospective pool owners. There are a number of timeless features that can elevate your swimming pool, including sloped or stepped entry points, wet edges, knife edges, slides and spas with spillovers. While design options are plentiful within suburban sprawl, it is important to establish privacy in your backyard. Homeowners can be inventive with their landscaping to offer a greater sense of seclusion for their family. "Hedging and landscaping is a popular method to ensure privacy from neighbouring properties," Rothery suggests. "Strategically placed shade cloth structures can also shield your pool space from view [if] there are double-storey dwellings around." Homeowners can also use a small privacy fence with latticework to soften their landscaping and add lush, decorative flair that still allows for natural light. Hedge plants, wisteria and Boston ivy provide great privacy potential for homeowners who don't wish to harshen their landscape with fences or barriers.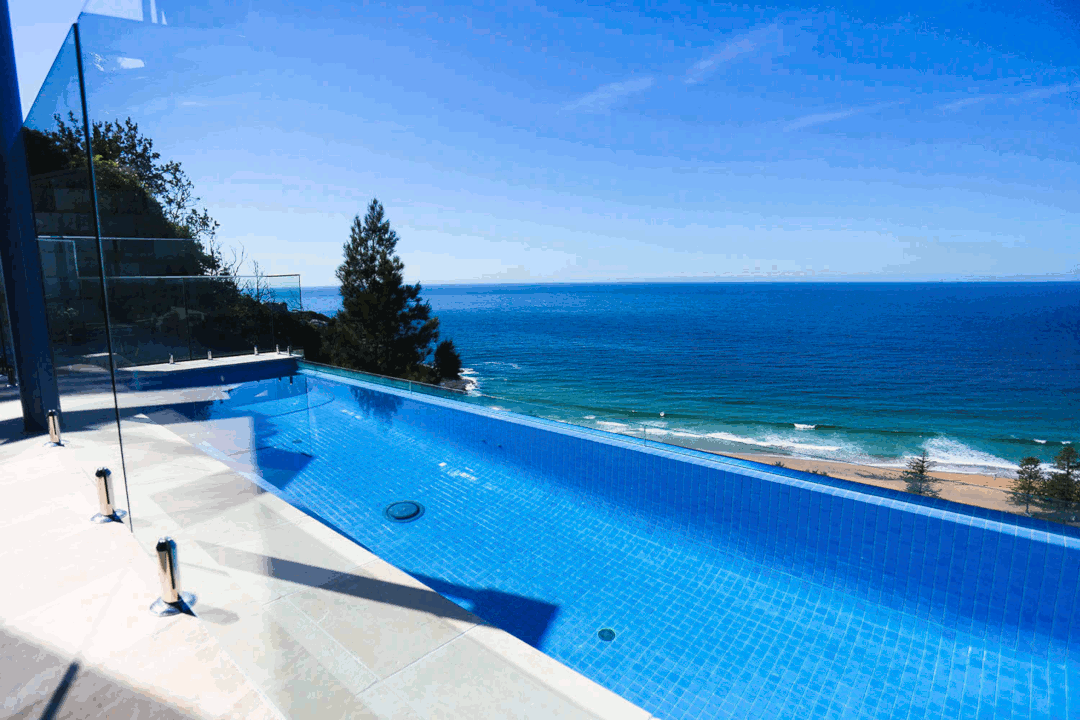 RURAL REAL ESTATE
Without the restriction of space, rural and bush property owners can be more flexible with the size and design of their pool. "Rural properties [typically] have abundant yard space so tend to be larger family-style pools," Rothery says. Large paved areas and bush surroundings are recurring features of rural swimming pools and outdoor areas, with average sizes ranging between 7m x 3m and 9m x 4m. As the modern pool and home design continues to evolve, homeowners are seeking a more cohesive feel between indoor and outdoor zones, with site positioning and landscaping playing a significant role in design and installation. "Positioning on the site in consideration of the view from the house is a major driver," Rothery explains. Just as a pool view from within the home is important, so is capitalising on the picturesque surrounding landscape. Negative, glass and wet edge pools are the perfect vessel for enjoying outdoor scenery during those scorching summers. As well as being a stunning choice, these designs also overcome the sloping challenges often associated with rural blocks. "Many bush properties are sloping site installations so wet edge spillovers work to great effect," Rothery says. Retaining walls and steps are must-have features for sloping sites, and also offer additional landscaping potential.
BEACHSIDE ABODES

It's hard to beat the luxurious feel of a swimming pool with an ocean view. Beachside dwellers can expand upon this dreamy lifestyle with an infinity pool. "A popular trend in many beachside properties with a view of the water is an infinity edge to blend the pool surface horizon with the surrounding bay or ocean water," Rothery says. This breathtaking visual effect will become the focal point of your backyard, so you can scale back your outdoor design with minimal landscaping. There are few drawbacks to residing by the beach, but homeowners should be mindful of breezes. "Beachside locations are often subject to ocean breezes, so waterfalls or spills need to be designed in consideration of prevailing winds at the site," Rothery says. Your beachside pool is the perfect opportunity to craft a unique blend of nature and man-made luxury in your very own backyard, so it's crucial to maintain visual harmony. "Glass fencing and infinity edges are common design methods to ensure enhancement – not visual interruption – of your stellar view," Rothery says.
ALWAYS TAKE THE WEATHER WITH YOU
It is important that you consider the positioning of your pool before installation for a greater environmentally conscious lifestyle. As the sun will typically warm your pool by up to four degrees celsius, pool owners can take advantage of this by building in a north-facing location that will catch plenty of sun and cut down on heating costs and energy usage. If the positioning of your pool exposes prevailing winds, Rothery recommends installing a windbreak to avoid unwanted cooling and evaporation.
Prospective pool owners may also consider building with fibreglass to reduce the energy and chemical usage associated with pool cleaning. As fibreglass is a non-porous material, it does not require the same regular cleaning that a concrete pool demands, therefore fewer harsh chemicals are used.
Climate plays a significant role in determining the types of features that should accompany your swimming pool. Warmer weather will heat a pool at a faster rate, depleting chlorine and pH levels; a nasty side effect that facilitates algae growth. Rothery advises readers to install larger sanitation and filtration systems to combat algae build up. For a pool housed in a cooler climate, clever positioning is essential to get the most out of your swimming potential. "Wind protection, space for pool cover storage, and of course attention to northern sun exposure [is] paramount," Rothery says. "Consideration of trees and shadowing on the property will determine pool placement." A darker lining or tiling can often retain greater heat, while wide ledges and shallow sections can also improve heat exposure during sunny days. Be sure to consider which weather conditions will apply to you based on your location and take action before you build.
INSTALLATION INTERRUPTION
Once your pool design is finalised with your builder, you can expect a waiting period of three to four weeks for council certification. From there, construction time is typically 12 to 14 weeks, with allowance for weather interruption, landscaping and fence installation. "You can expect the total time from start to finish to be around 16 to 20 weeks," Rothery says. An integral factor to consider before building your pool is your location will impact your pool installation. This may seem like a non-brainer, but your location type – whether rural, urban, suburban or coastal – will directly affect the building process. Construction noise is a prominent concern for inner city and suburban areas, as well as traffic control. In rural areas, dirt road access for machinery can prove difficult during inclement weather. Certain coastal homes offer only singleside access because the beach or cliff is on the other side of the property, requiring cranes to complete the build. While these external factors should be incorporated into the planning of your build, Rothery assures homeowners that these challenges can be minimised with capable, experienced builders like Crystal Pools.
While there is a plethora of factors to consider before building your pool, your location should be the first source of inspiration for your design. Understand the challenges and benefits of your site, and your dream pool will follow.
Images courtesy of Crystal Pools